Practical Storage Solution
Our range of Siamese Lockers provides a separate top and hanging compartments housed within a single locker carcass. The top storage compartments have no internal fittings and the lower compartments are fitted with a coat rail and coat hook at the rear. The locks to the top compartments differ but are paired with the lock to the lower compartments. Both top doors have a standard height of 200mm.
The Tall Siamese Locker (illustrated far left) has a larger top compartment and the door is 280mm high, making it ideal for the storage of crash helmets and other safety headwear.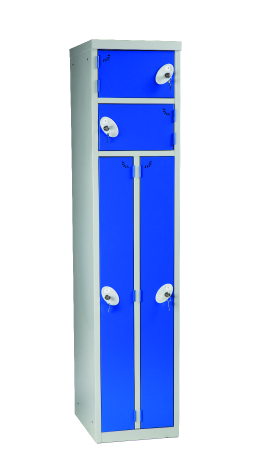 A locker to be used where space is at a premium, offering storage for two people in the same locker. Each person has a hanging compartment and a small locker compartment with paired locks allowing each person total privacy and security.
Height: 1800mm
Widths mm
Depths mm
375
450
400
525